The Project
YHA London Stratford is a brand new Youth Hostel to be located right next to the Olympic park in the up and coming area of Stratford, east London. The hostel is due to open in 2021 with bookings being taken from late 2020.
This brand new hostel will be YHA's biggest yet, with 850 beds split across private rooms and dorm rooms – perfect for large groups & school trips, family getaways and weekends away in the capital. Add to this all the facilities you've come to expect from a Youth Hostel – self-catering kitchen, en-suite rooms and superb social areas – and you've got a great place to stay in the heart of London. YHA London Stratford is a modern purpose-built hostel situated in a sought-after location close to high speed rail links to central London.
Planning permission has been granted and work will start on the hostel in due course.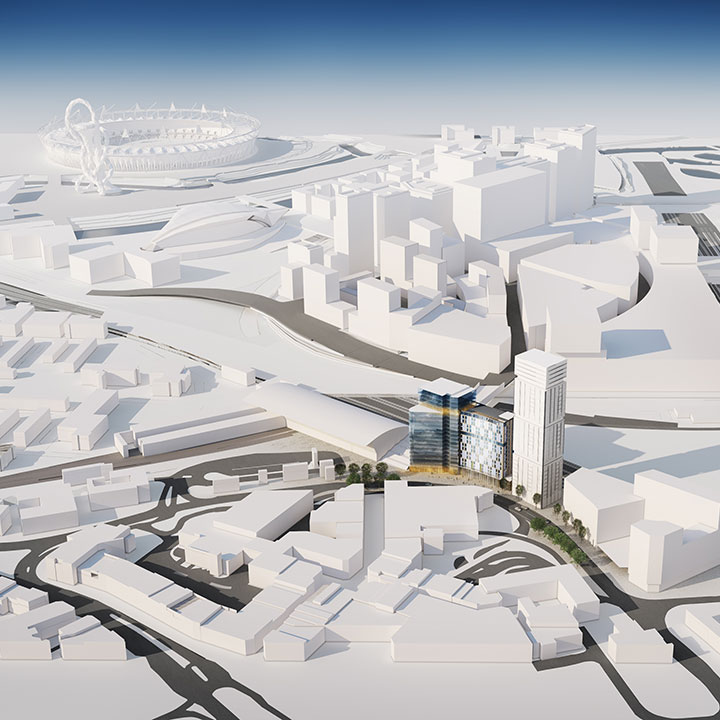 Location
If you've not heard of Stratford in London then where have you been since 2012? Home to the Queen Elizabeth Olympic Park which hosted the Olympic Games back in 2012, Stratford has since become known as the capital of East London. The area has experienced massive regeneration and has a new high speed railway line which means it only takes seven minutes to get to the central sites and sounds of the city.
And did we mention the shops? Westfield Stratford City is one of the largest shopping centres in Europe so if it's retail therapy you're after look no further than this 250 shop, 70 bar-behemoth.
What will it look like?
Browse through a collection of artists impressions based upon the latest designs below.
Tell me more
Be the first to know! Complete the short form to register your interest about YHA London Stratford. We'll be in touch as soon as there's more news to share with you.
If you're interested in large group travel (16 people or more) or school trips to YHA London Stratford, please use our Group Enquiry form.