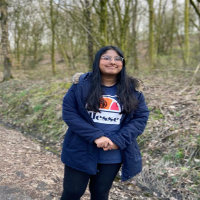 Zoya Sarfraz
I am Zoya. I'm currently in college studying physics, chemistry and English literature. In the past, I have worked with other charities such as The Mix and the National Children's Bureau. Working with these charities allowed me to build my confidence and retain a passion for trying to help others.
This is my first time becoming involved with YHA but I know that it will be the first of many great opportunities to help others through this amazing charity. 
Most importantly, I want to bring new innovative ideas to the team to help expand YHA's network and help as many young people as possible. I want to focus on gathering young people's views and presenting them in meetings to ensure that young people feel heard and therefore, more encouraged to engage with YHA.
For me, I feel it is important that we can achieve expanding the Youth network and attempting to make YHA more inclusive. I want to do this through Co-design workshops and pushing Youth Voice as much as possible. Finally, a fun fact about me is that I love BTS.