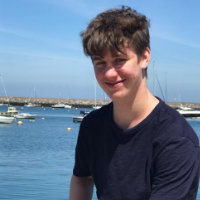 Tom Nicol
I am sixteen and currently in my first year of A levels studying Geography, Maths and Economics.  I am very lucky to live in Devon which is a beautiful part of the world and we have easy access to the sea and Dartmoor.  I often enjoy walks out with my golden retriever who is called Rosie. She particularly likes swimming in the sea and local rivers.  
I enjoy cooking and have recently taken up the acoustic guitar.  I also really enjoy playing computer games but have discovered that if I get out on a break or an adventure, I really enjoy it.  Staying in a youth hostel is perfect for this. I have used them as convenient places to meet up with extended family; stayed in one when I took part in a football tournament; had a city break in Bristol; had surfing and walking weekends in Cornwall and even used one in Manchester as an overnight stay to break up a long journey. It was a perfect location as I was able to be part of the audience for Ninja Warrior UK which was being filmed in a studio just round the corner from the Youth Hostel.
As part of the YHA Youth Advisory Team, I would like to raise awareness of the challenges that face neuro-diverse people and make some positive changes that encourage them to stay in youth hostels.  I have a positive outlook and am open-minded towards people. I also make an effort to adopt the following phrase : If you are not sure if you want to do something, have the courage to try it and see if you regret it afterwards.