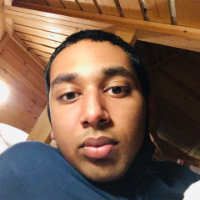 Pavan Bhamidipati
I'm Pavan and I'm currently studying for my A levels and hoping to do a degree in clinical psychology after I have finished my A levels.
I absolutely love to travel - as of summer 2021, I have been to every single London Underground, London Overground and London tram stop. I have also visited nearly every single one National Rail station in London and I love adventures and going to remote areas and looking at nature and countryside makes me feel so good. However, I haven't explored any part of the UK outside of South-East England where I have been living all my life. I hope to be able to travel more during my time with YHA.
I'm autistic as well which means that I perceive the world differently to others, autism is a disability but that doesn't mean that it's a bad thing, the best thing about being autistic is the sensory joy that I experience through certain things that absolutely comfort me, and another thing I love about being autistic is that I'm so passionate about my special interests and I want to say that just because I'm autistic, that doesn't mean that life is all bad.
Much of my teenage years has been plagued with mental health issues and depression. In all honesty, I have lived a difficult life and I have suffered a lot in life, during my time with YHA, I want to be there for other youths, and to be able to support them, the biggest issues that I face in life is poor mental health, long waiting lists for mental health support, and racism. I strongly believe that no youth should have to go through the difficult life I faced.
I believe that YHA is an amazing charity who can really transform the lives of youths and make a real difference. I'm grateful for YHA and everything that they do, I have only known about YHA recently and the amazing work that they do and I wish I had known them earlier, that's how wonderful YHA is.
I currently work for Council for Disabled Children and It's OK which is a mental health charity and during my time with YHA, I want to be able to bring my personal experiences as an autistic person to really improve the lives of disabled youths.